This is the second blog post for the launch party. Be sure to check out THIS POST to read about the Twitter contest and the Facebook contests, and to see what you can win.
This giveaway is simple: all you have to do is follow this blog through GFC and/or Networked Blogs, then answer the questions below, and I'll enter you to win this "Nicholas" bookmark. Open internationally.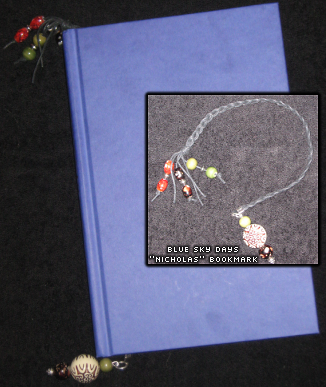 1) What are THREE (or more) books you're looking forward to in 2012?
2) Book recommendations - I love to read and have very eclectic tastes, and I'm always appreciative of recommendations. Recommend at least 2 books in any genre, old or new.
Leave a comment below and tell me the name you use to follow the blog, your answers to the questions, and your email address.
I'll give you three extra entries if you tweet about this giveaway or about the book launch. You can create your own tweet, or copy and paste one of the following tweets:
BLUE SKY DAYS by Marie Landry comes out today. Check it out! http://amzn.to/wFz1cX #blueskydays @SweetMarie83
Come join the BLUE SKY DAYS launch party on Marie Landry's blog! http://marielandry.blogspot.com #blueskydays @SweetMarie83
Good luck and thank you so much to everyone who is helping me celebrate today!