Today is the official launch of my debut novel, Blue Sky Days! This has been a long time coming. My whole life, all I ever wanted to be was a professional writer, and now here I am, living my dream. So, I'm sure you can understand that today is a huge day for me, and I want to celebrate with all of you. Many of you already know about the launch party through Facebook, my blogs, Twitter, and GoodReads, but in case you don't know, all day today I'm having an online launch party to celebrate the release of Blue Sky Days.
There will be 2 contests on Facebook, as well as a chance to win something through this blog, so stay tuned later in the day.
But first…want to win this bookmark from the Blue Sky Days jewelry line, or an e-copy of Blue Sky Days?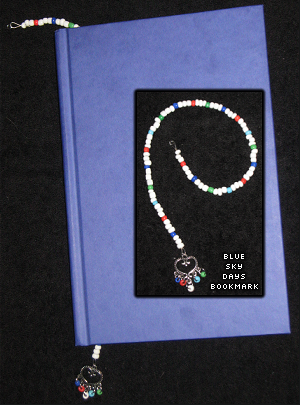 Come join me on Twitter today. I'm going to be hanging out all day tweeting teasers from the book, and other fun book-related stuff. Send me a tweet @SweetMarie83 and/or use the hashtag #blueskydays and I'll enter your name into a giveaway for either this bookmark or an e-copy of the book.
Please leave a comment below and tell me whether you're entering for the bookmark, the e-book, or both, and then leave your email address so I can contact you tomorrow. I'll slot your names in, and tomorrow I'll draw one winner for the bookmark, and one winner for the e-book.
9:30am - First Facebook contest is up HERE for a chance to win the "Emma" bookmark. Contest will run until midnight EST tonight!